Meet the crew
Our experienced and friendly crew look forward to welcoming you on board Gloria.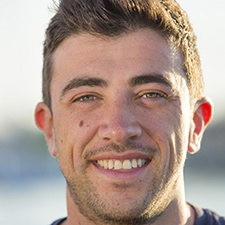 First Mate Tom Penman
Tom grew up sailing on the East coast of England before moving with his family to Cornwall in the Southwest when he was 7.
Restoring boats has always been his passion. Having trained in traditional boat building and yacht finishing, his skills have taken him worldwide working on various classics such as SY Argyle, SY Comet and motor yachts Bystander and A2. In addition to this Tom spent 6 years with HM Coastguard, his hobbies include outdoor pursuits and keeping fit and active.
Tom joined Gloria in April 2015 taking up a long held dream to work as permanent crew on a sailing yacht, his enthusiasm for travel has taken him to South America, Asia, Australia, New Zealand and on SY Gloria, the Caribbean and United States.
Tom is fun loving with a great sense of humour, his warm and caring character makes him a great asset to the Gloria crew.
For more images of Gloria and her crew click here.